The scheduled Festivals & Events in the Gunnison-Crested Butte area and around Gunnison County are just pure Colorado fun in the mountains. Each venue reflects the nature of the area and the imagination of the people who live here. We invite you to join us in what we believe are fun, entertaining, and mind-expanding experiences! For more information about any of the events listed here, contact the WestWall Lodge front desk at 970-349-1280

Alpenglow Concert Series: Lipbone Redding
August 13, 2018 @ 5:30 pm
FREE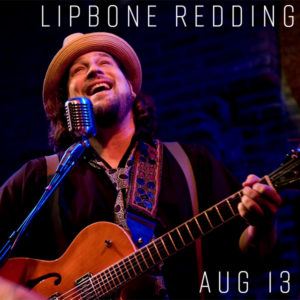 A one-man orchestra with no electronic effects or loop pedal, Lipbone Redding uses his lips as a vibrating trombone, combining his signature sound with throat singing, bass and beat-boxing, weaving his stories with funky rhythms, catchy melodies, brash humor, soulful singing, and inventive guitar playing. From the swampy farmlands and beach towns of his rural home in coastal North Carolina, Lipbone Redding was steeped early on in the traditions of soul, boogie and blues before carving his name into the New York music scene as a subway musician and then a staple of the East Village. He has shared the stage with many great artists including Marcia Ball, John Mayall, The Dirty Dozen Brass Band, Tab Benoit and Cyril Neville and toured India, Europe and South America. An uncanny vocal range, a nylon string guitar, a wooden spoon duct-taped to his foot and a lifetime of stories are all he needs to get the party started.
Lipbone is joined by a funky band of rhythm virtuosos, the Mesa Groove Unit.
Come rain or shine on the Center's Outdoor Stage.