The scheduled Festivals & Events in the Gunnison-Crested Butte area and around Gunnison County are just pure Colorado fun in the mountains. Each venue reflects the nature of the area and the imagination of the people who live here. We invite you to join us in what we believe are fun, entertaining, and mind-expanding experiences! For more information about any of the events listed here, contact the WestWall Lodge front desk at 970-349-1280

ARTrageous Gala
August 9, 2018 @ 6:00 pm
$150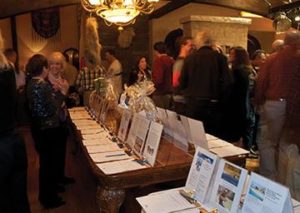 Join the Center for the Arts in a celebration of the intersections of visual, performance and culinary arts at the ARTrageous Gala. An immersive and interactive experience with the art and artists that inspire us, the 2nd Annual ARTrageous Gala is held on Thursday, August 9 at 6 p.m. at the Lodge at Mountaineer Square. Exhibitions & Demonstrations intriguingly reveal the creative intersections between artistic disciplines. Live & Silent Auctions explode with original art and other truly unique offerings. Savor a multi-course dinner brimming with divinity before dancing the rest of the night away with musicians Ryan Dart & Friends. This is a fundraiser that not only supports the mission of the Center to bring a diversity of arts to the community, but also supports local artists and their endeavors in the process.
Artist Exhibitions & Demonstrations
Begin the evening with a host of exhibitions and demonstrations as artists of multiple mediums convene to conduct live demonstrations of their craft. Encounter historical photographic processes from the 1800's with hand-tinting and cyanotype techniques by award-winning photographer and owner of the Midnight Gallery Kimbre Woods. Capture the enthusiasm of teacher and artist Suzanne Pierson demonstrating the watercolor techniques she utilizes to produce her captivating landscape and nature paintings. View the visual outpourings of musician and painter Ryan Dart before succumbing to his music later in the evening. Artists who have offered pieces for the Live & Silent Auctions are on hand to chat during cocktails before dinner. Take advantage to interact with the artists themselves, learn about their muses and materials, rub elbows with creativity, and find a piece of your own.
Live & Silent Auctions
Embrace the extraordinary ability to bid on a vast array of original art from Gunnison County's wealth of local artists and beyond. Paintings in acrylic, oils and watercolor. Hand-blown glass. Mixed media and fabric art. Photography, sculpture, jewelry and pastels. Bring pieces from visionaries such as John Bukaty, Nathan Bilow, Ivy Walker, Peggy Morgan Stenmark or Rosalind Cook (and more) into your home. Culinary and vintner arts offerings feature a private sommelier experience and guided private tastings and appetizers. Or, delve into the art of adventure with travel packages to Fiji, the Sunrise Springs Spa Resort in Santa Fe, or an overnight horse backing trip with Gunnison County Outfitters. Experiences such as Crested Butte Film Festival passes and tickets to multiple Denver museums round out just some of the offerings.
Dinner & Dancing
After an elegant, multi-course dinner, head to the dance floor to finish off the evening with live music and a bit of boogie. Embodying the theme of immersive and interactive – singer-songwriter, guitarist, harmonica player, farmer and visual artist Ryan Dart comes with a bevy of fellow musicians so you can kick up your heels properly. A native of Colorado, once a musician's road manager, a former habitant of Booneville, Arkansas between the Ozark and Ouachita Mountains, and now the owner of an organic vegetable and fruit farm in Berthoud, Colorado, Ryan's music is inspired by the difficult work of tilling the soil, the struggles of life on the road, and the many challenges we all face in this modern world. His is a matchless blend of mountain wisdom with hard times Southern grit, oscillating between country and rock with influences from Bob Dylan to Chris Robinson and a playlist that heralds from the countryside.
The Center for the Arts is the hub in Crested Butte for art in all of its diversity of expression. The ARTrageous Gala is the perfect capsule to hold this colorful range of manifestations. No other event brings you the crème de la crème of the local cultural arts scene in one inspiring evening.
The 2nd Annual ARTrageous Gala is Thursday, August 9 at 6 p.m. at the Lodge at Mountaineer Square. Tickets are $150 per person, or $1,300 for a table of 10. For tickets, information and to participate in the online auction visit www.artrageous.net.