The scheduled Festivals & Events in the Gunnison-Crested Butte area and around Gunnison County are just pure Colorado fun in the mountains. Each venue reflects the nature of the area and the imagination of the people who live here. We invite you to join us in what we believe are fun, entertaining, and mind-expanding experiences! For more information about any of the events listed here, contact the WestWall Lodge front desk at 970-349-1280

Live! From Mt. CB Featuring Con Brio
August 8, 2018 @ 5:30 pm
FREE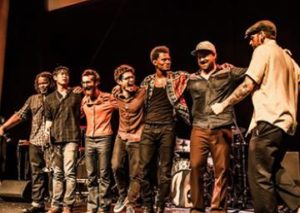 Live! From Mt. CB is Crested Butte Mountain Resort's Wednesday night summer concert series, in the base area. Join us for great tunes, a laid back atmosphere and the beautiful backdrop of Mt. Crested Butte in all its summer glory. 21+ guests can purchase alcoholic beverages, and there's plenty of room for kiddos to play, so bring your lawn chairs or picnic blankets and gather around for mid-week music!
The night before Con Brio headed into the studio to record their first full-length album, 23-year-old Ziek McCarter had a dream. In it, the singer received a visit from his father, an Army veteran who died at the hands of East Texas police in 2011. His father delivered an invitation: Come with me to paradise.
McCarter woke up with a song in his bones. "It was one of the most spiritual moments of my life," he recalls. It was up to him, he knew, to rise above injustice, and to perform in a way that lifted up those around him as well. To make Con Brio's music a place of serenity, compassion — even euphoria — right here on earth.
Paradise, which saw the San Francisco band teaming with legendary producer Mario Caldato Jr. (Beastie Boys, Beck, Seu Jorge), is the result: a declaration of independence you can dance to; an assertion of what can happen when the human spirit is truly free.
Formed in 2013, Con Brio is the offspring of seven musicians with diverse backgrounds but a shared love for the vibrant Bay Area funk and psychedelic-soul sound pioneered by groups like Sly & the Family Stone.